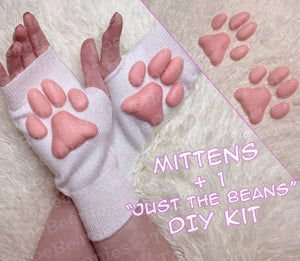 LIMIT OF 1 PER CUSTOMER (per release)
THIS IS A PREORDER with a 3-4 week working time!
Contains one pair of fully assembled, handmade puffy pawpad ToeBeanies Mittens & one "Just the Beans" DIY Kit
**DOES NOT INCLUDE SOCKS**
Mittens are one size, fits most adults.

Pawpads are made from tear-proof, squishy, urethane foam. Perfect for petplay, cosplay, boudoir, photoshoots, and more!
Assembled pawpads are 3" length x 3" width x 3/4" height.

***Caring for your ToeBeanies Mittens***

Turn mittens inside out before washing
Machine wash with **COLD** setting on delicate
**Air Dry Only** DO NOT PUT IN DRYER
 "Just the Beans" DIY Kit
These kits are made for those who want to add beans to their own favorite style of socks at home! Our beans are made from soft, squishy urethane foam and can be adhered to just about any fabric you might have (see caution below about sheer fabric). You can adhere them with e6000 glue, hot glue (specifically fabric hot glue), or just about any extra strength fabric glue. If you don't have your own glue, we can supply e6000 as an addon above for an additional $5! Pawpads fully assembled are approximately 3" length x 3" width x 3/4" height. Kitten paws are slightly smaller than the puppy version.

Each Kit Includes:

1 pair of toebeans in your choice of kitten or puppy style
1 application stencil
Detailed application Instructions

What you'll need at home:

A pair of Socks (or gloves, but our instructions only cover how to adhere them to socks)
A marker or something to trace your foot with
Scrap Cardboard/Chipboard or something similar (You will need to trace your feet in order to create inserts to put your sock on before you can glue them!)
Glue, either e6000, hot glue, or strong fabric glue (We can supply e6000 at an additional cost but left it optional in case you already have glue!)
Scissors to cut your foot inserts from your cardboard tracing.
Cautions:
**When working with e6000 glue be sure to work in a properly ventilated area**
**When adhering beans to very thin, sheer fabric (such as nylon tights) it could cause the fabric to
sag or tear depending on how delicate the fabric is.**
**Since we have no control of the application we cannot guarantee beans won't fall off in the washing machine (but we can guarantee that the beans won't fall apart so they can easily be re-attached!) We recommend pulling socks inside-out before putting them in the wash that way if one does come off you don't lose any beans!**
**We do not recommend these for fursuits.**
**Colors vary slightly by batch and may appear different than on your monitor**
Customer Reviews
12/16/2020
Malia S.
United States
cute!
Glad I was able to snag this pair: when I find a decent set of socks I'll add the second bean set. The handset is very comfortable and surprisingly warm.