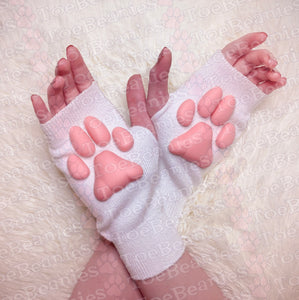 LIMIT OF 1 PER CUSTOMER (per release)
THIS IS A PREORDER with a 3-4 week working time!
Contains one pair of fully assembled, handmade puffy pawpad ToeBeanies Mittens 
Mittens are one size, fits most adults.

Pawpads are made from tear-proof, squishy, urethane foam. Perfect for petplay, cosplay, boudoir, photoshoots, and more!
Assembled pawpads are 3" length x 3" width x 3/4" height.

***Caring for your ToeBeanies Mittens***

Turn mittens inside out before washing
Machine wash with **COLD** setting on delicate
**Air Dry Only** DO NOT PUT IN DRYER
Customer Reviews
12/16/2020
Justin W.
United States
Toe Beanies Pink Kitten Pawpads, white mittens
These were exactly what I figured I'd be getting, they're cute, soft, comfortable, the beans are really cute and fun to poke at. I didn't have to worry about size being an issue.. these are great for cosplay, or just casual wear around the house.
12/16/2020
Arielle F.
United States
Best Purchase
I have ordered from here before, although I only bought the toe beanie parts to put on my own socks, so I knew to expect great quality with that, but they did an amazing and clean attachment to the gloves. Its so much fun to walk around with, and just such a great feel. Definitely recommending this to any and everyone.
KL
12/16/2020
Kit L.
United States
Adorable and comfortable!
These are incredibly cute, of course! The fabric was incredibly soft, and the beans were nice and smooth, not porous like I thought they'd be. Fit my small hands perfectly but the fabric is really stretchy so I could see it fitting larger ones too! Now I just gotta figure out what I'm going to do with them other than occasionally put on and admire them, haha.